Millbrook
All Night feat. Selin
[VPR209]
Stream or Buy: https://fanlink.to/VPR209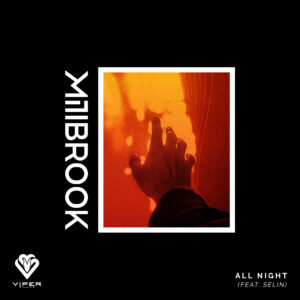 The Millbrook moniker has quickly become synonymous with innovative, ingenious, and all-around incredible production since signing to Viper early last year. Making a name for himself with groundbreaking singles like 'The Rise' with Vorso and Mad Hed City, 'Refractions', 'Rituals', and recent singles 'Go Numb' and 'Broken Love', the young producer has already earned support from leading tastemakers in the scene, including UKF, Magnetic Mag, Spotify, Guestlist.net, and more – not to mention massive support on the DJ circuit, too.
Demonstrating a mastery of a versatile range of sounds, Millbrook's latest single is the radio friendly summertime anthem 'All Night'. A vibrant opening paints a picture of cruising down the highway, top down, wind in your hair, sun in your eyes – the ultimate summer adventure soundtrack.

Featuring Selin on vocals, the Turkish songstress now based in London lends her enthralling voice to the track, adding an infectious pop energy and charm that pulls you in right from the start. Together with lively horns and cavernous basslines, Millbrook exhibits his knack for writing catchy and unusual drum & bass with 'All Night'. A new chapter in the already impressive Millbrook anthology, the track is upbeat and alluring, yet still with a dark, enigmatic twist that keeps you on your toes.
With Millbrook, you never know quite what to expect, but one thing is consistent: high quality, creative, and refreshing drum & bass that leaves you begging for more. A strong addition to the ever growing Viper catalogue, this latest single is sure to be a favourite amongst old fans and new, and is certain to be met with praise from his industry peers as have all his releases so far. Be sure to keep an eye on Millbrook who has proven to be an unstoppable force and a thriving member of the Viper family.
Millbrook – All Night feat. Selin
1. All Night
Label: Viper Recordings
Cat: VPR209
Genre: Drum & Bass
Released: 31st July 2020
Stream or Buy: https://fanlink.to/VPR209