DOSSA & LOCUZZED – C'MON FEET / LOVE BLIND VIP
[VPR164]
BRAND NEW MUSIC FROM THE AUSTRIAN BOYS!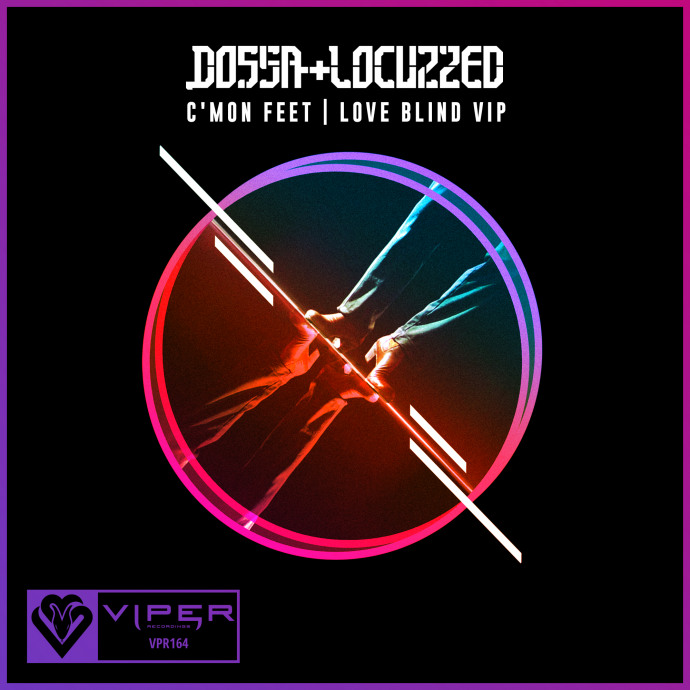 Buy & Stream: https://fanlink.to/VPR164
After signing exclusively to Viper in 2016, nothing but success has followed Dossa & Locuzzed. The duo from Austria have seen support from some of the biggest names in drum & bass with singles like 'Love Blind', 'Stoned Love', and 'Electric Boogie' being picked up by Sub Focus, Matrix & Futurebound, Andy C, Culture Shock, DJ Marky, and MistaJam among others. Following the release of their highly sought-after remix of Camo & Krooked's 'Honesty', their VIP edit of the iconic 'Shag', and recent singles 'Synthesizer/Grains' & 'Fuse/Shake', the duo are once again setting their sights on success with their latest Viper release.
Brand new from the duo is the appropriately named 'C'Mon Feet'. A glittering introduction immediately draws the listener in, a velvet smooth enclosure that radiates charisma and charm. Easily some of their best work to date, 'C'Mon Feet' is a strong indication of the duo's strengths and shows them broadening their horizons, trying something new and totally smashing it. Infused with their signature funk but with a previously unheard filthy side, Dossa & Locuzzed certainly show no signs of slowing down.

On the flip side is a brand new VIP of what is perhaps one of their most iconic tunes, 'Love Blind' featuring fellow Viper family member BMotion, known for its warm acoustic vibes and infectious vocals. Now, kicking things up yet another notch, Dossa & Locuzzed manage to pack even more funk and energy into the VIP – this one is set to be a favourite for DJs and fans alike the world over. Keeping the charm of the original vocals but adding a darkness to the drop, 'Love Blind VIP' is funk fresh with a warped twist.
​

True pioneers of the genre who are constantly pushing the boundaries of bass music, it's no surprise Dossa & Locuzzed have met with such success since their signing to Viper, and this latest release proves that the duo have a lot more in store – definitely keep an eye on these two.
Label: Viper Recordings
Cat: VPR164
Genre: Drum & Bass
All Stores: 01/02/2019
Buy & Stream: https://fanlink.to/VPR164