BLVCK CROWZ
Golden Youth feat. Micah Martin
[VPR232]
Stream or Buy: https://fanlink.to/VPR232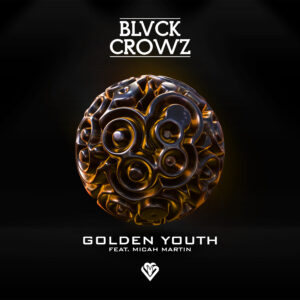 Dutch duo BLVCK CROWZ first made waves on Viper when they collaborated with label veteran Cyantific on the mighty 'Waiting 4 U', so it's no surprise to see the talented up-and-comers return to Viper. Known for their homegrown twist on the jump-up sounds from one of the hottest DnB capitals in the world, BLVCK CROWZ have been turning more than a few heads over the last year with consistent releases gaining huge industry support every step of the way. Now, releasing their debut solo single on Viper, BLVCK CROWZ have proven they aren't ones to mess around.
Teaming up with Micah Martin, known for lending his voice to some huge records across the bass music spectrum over the years, 'Golden Youth' is the result of a truly exceptional collaboration. Strong vocals soar over an illustrious soundscape, as loud as it is vibrant and full of life. Bringing the energy of jump-up into the charm and pull of liquid, BLVCK CROWZ are on the path to forging their own unique niche in the world of drum & bass.

Upbeat and full of adrenaline, 'Golden Youth' is mesmerizing enough to lure you in before serving up a healthy dose of jarring basslines and resounding subs. Fusing together different elements beyond the point of easy classification, BLVCK CROWZ have taken a huge risk with this record, and it has more than paid off. An unforgettable addition to the growing Viper roster, BLVCK CROWZ are definitely ones to watch, and this record is but a taste of what's to come from this trailblazing duo.
BLVCK CROWZ – Golden Youth feat. Micah Martin
1. Golden Youth
Label: Viper Recordings
Cat: VPR232
Genre: Drum & Bass
Release Date: 21st May 2021
Stream or Buy: https://fanlink.to/VPR232