VIPER PRESENTS: THE SOUND OF DRUM & BASS UK TOUR
DATES AND CITIES ANNOUNCED!
Viper Recordings are proud to announce the first ever 'The Sound of Drum & Bass' UK Tour with 8 dates in venues across the UK this winter with Academy Events.
Bringing some of the biggest names in drum & bass, this is the world's first all ages dancefloor tour, showcasing the very best in the genre with one of the most diverse lineups the UK has ever seen.
Following the release of their new album 'Orange Lane', the legendary Brookes Brothers are bringing a special album showcase to all 8 dates – expect a soulful dose of drum & bass at O2 Academy venues across the country.
Viper's own Cyantific adds his signature 80s flair to the tour alongside the incredibly talented cinematic duo that is Koven.
Harry Shotta, DJ Phantasy, and MC Phantom bring an unparalleled jump up energy to the lineup with the renowned 'Harry Shotta Show', and as if that wasn't enough, TC, a true pioneer of the genre, brings his own classic thunder alongside DnB heavyweight Majistrate. Lastly label boss Futurebound will be at the Liverpool leg with 'Matrix & Futurebound' in his home city.
Hosting the nights we have a strong list of house hold named MC's including; the prestigious Eksman, the legendary IC3 and the #1 lady Miss Trouble.
Viper are proud to consistently be at the forefront of inspiring a new generation of drum & bass fans, and this tour is the apex of that, accentuating the diversity and community that this music is all about.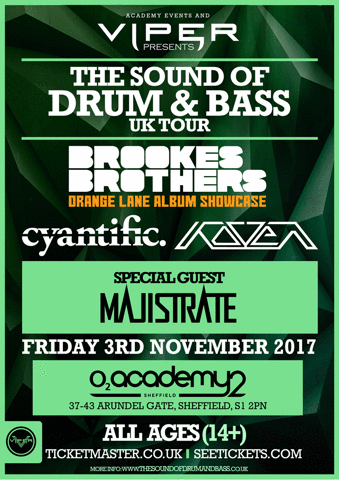 Event listings & info: http://thesoundofdrumandbass.co.uk/
Tour Dates:
03/11/17 Sheffield O2 Academy 2
https://www.facebook.com/events/102533860483045
04/11/17 Liverpool Arts Club
https://www.facebook.com/events/353502045083475/
11/11/17 Oxford O2 Academy 2
https://www.facebook.com/events/340416319745013/
17/11/17 London O2 Academy Islington
https://www.facebook.com/events/1892383091082880/
18/11/17 Birmingham O2 Institute 2
https://www.facebook.com/events/607974602925110/
08/12/17 Bournemouth The Old Fire Station
https://www.facebook.com/events/1710402149005015/
15/12/17 Glasgow O2 ABC 2
https://www.facebook.com/events/2021141018107957/
16/12/17 Newcastle O2 Academy 2
https://www.facebook.com/events/548010612214651/
Tickets available from Ticketmaster / See Tickets.