VIPER PRESENTS: BASSRUSH 2.0 SAMPLER EP
EXCLUSIVE 4-TRACK SAMPLER EP FROM THE 2ND BASSRUSH ALBUM!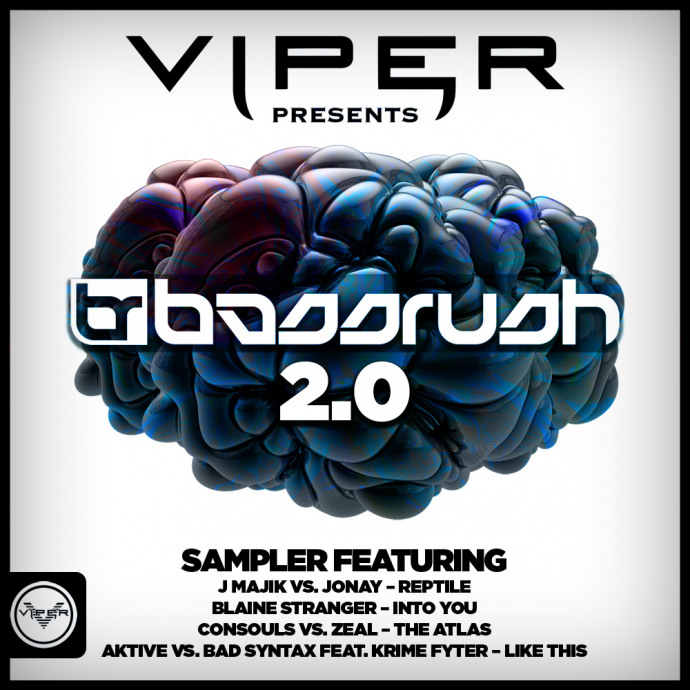 Viper Recordings are teaming up once again with esteemed American label Insomniac Records and Bassrush Promotions to bring the second installation of Bassrush, a massive compilation album featuring the best of Drum & Bass. Ahead of the release, Viper have dropped this exclusive 4-track sampler as a little taste of what's to come.
First up, the legendary J Majik teams up with Jonay on 'Reptile'. With a cinematic intro, J Majik and Jonay artfully build suspense up in the first minute before absolutely destroying speakers with a healthy dose of techy, gritty bass. Impeccable sound design pairs with an almost unexpected groove, delivering a tune that is as dark as it is catchy with a heavy dub influence.
Viper's own Blaine Stranger, boasting four tracks on the compilation, delivers yet another impressive rendition of his signature sound with 'Into You'. Faded vocals add an apocalyptic flair to the track, but the halftime switch up drop is what really makes this one stand out.
The third track on the sampler comes from Consouls and Zeal with 'The Atlas', an elegant piece of music that highlights the more melodic side of drum & bass in a powerful way. Melodic and formidable, this one was made for the dancefloor!
Finishing off the sampler is 'Like This', a heavy-hitting tune from Aktive and Bad Syntax. This track is proper filthy, with some seriously grimy sound design and Krime Fyter's lyrical genius adding to the mayhem. This is one seriously heavy tune!
**Keep an eye out for the rest of this massive album, out September 1st on Viper Recordings. Click herefor more info.**
Various Artists
Bassrush 2.0 Sampler EP (Viper Presents)
1. J Majik vs. Jonay – Reptile
2. Blaine Stranger – Into You
3. Consouls vs. Zeal – The Atlas
4. Aktive vs. Bad Syntax – Like This (feat. Krime Fyter)
Label: Viper Recordings
Cat: VPRLP019S
Genre: Drum & Bass
Beatport Exclusive: 18th Aug. 2017
Buy or Stream: https://viper.lnk.to/br2ep
VIPER ONLINE:
https://www.facebook.com/viperrecordings
https://twitter.com/viperrecordings
https://soundcloud.com/viperrecordings
https://www.youtube.com/user/ViperChannel
https://www.instagram.com/viperrecordings