VIPER PODCAST #002 HOSTED BY MISS TROUBLE (JUNE 2017)
FEATURING A SPECIAL GUEST MIX FROM INSIDEINFO!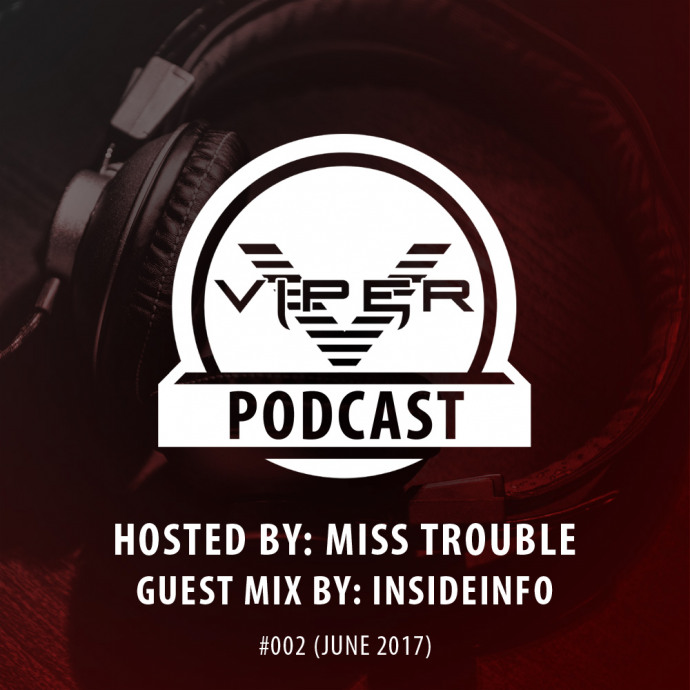 The Viper Recordings Podcast, bringing you the newest and freshest tracks direct from Viper HQ! Hosted by Miss Trouble, this month's episode features a special guest mix from InsideInfo, fresh off releasing his self-titled debut album on Viper!
Click here to subscribe on iTunes: http://smarturl.it/ViperPodcast
Episode #002 Tracklist:
InsideInfo – Renegade (feat. Jakes)
Hillsdom – Thoughtless
Insomniax – Goldsmith Road
Cynematic – Shuttle
Dub Elements – Fire Power
Blaine Stranger – Get Down
Living Plastic – Sunset For You
Dub Elements – Black Fog
Toronto Is Broken – Trying To Find Home (feat. Jodie Carnall)
Marcus Intalex & ST Files – Outerspace
InsideInfo Guest Mix:
Maxim – Baddest Breed (feat. Cianna Blaze) (InsideInfo Remix)
InsideInfo – Two Minds
Calyx & TeeBee – Conquest
VROMM – Level Up (feat. Rider Shafique)
Total Science – Jungle Jungle
Sigma – Slow Down (feat. Jetta) (Calyx & TeeBee Remix)
Camo & Krooked – Anubis (InsideInfo Remix)
Camo & Krooked & Mefjus – Mandala (EatBrain)
InsideInfo – Num Num (feat Aref Durvesh)
Nausika – Torture
LYNX – Loopy Sue (feat. Radzta)
InsideInfo – Glimpse (feat. Fable) (Paul Hartnoll Remix)
Document One – UH-HUH
InsideInfo – Pollinate
BMotion – Bear Hug VIP
Subtone – Proverbial (Break Remix)
InsideInfo – 82