VIPER 100 (PART 1) – LOVE BLIND
[VPR100A]
THE FIRST PART IN VIPER'S 4-PART VIPER 100 SERIES FROM BMOTION AND DOSSA & LOCUZZED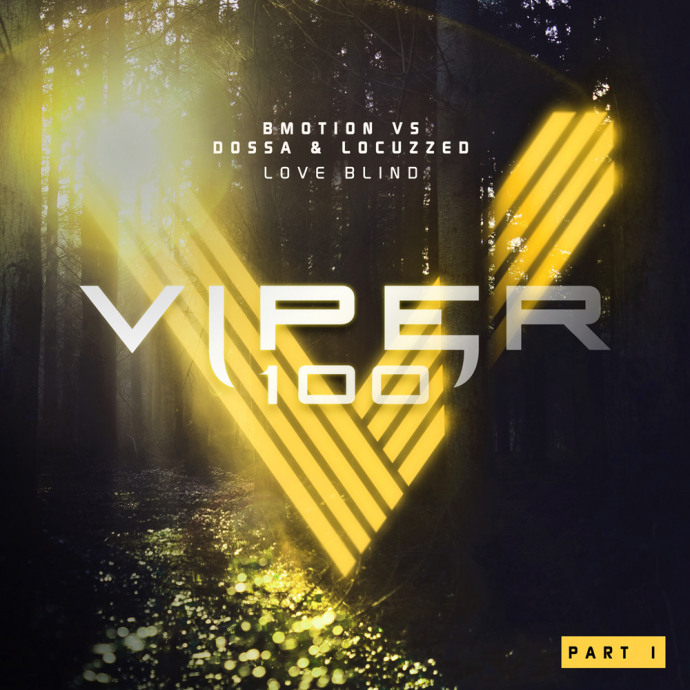 Since its inception by Futurebound in 2004, Viper Recordings has swiftly become one of the biggest drum and bass labels on the planet. Along with both sub-label Viper VIP and Metro/Viper as an extension of Matrix's own imprint, Viper Recordings has continued to build a global fan base as true pioneers of the scene.
Responsible for some of the most ground-breaking vocal and dancefloor Drum & Bass hits over the past decade plus, Viper Recordings is known for both its heavyweight roster of artists and its continuing mission to champion fresh and upcoming talent. Now, 13 years on, Viper have hit their 100th release and are celebrating in style by dropping a huge 4-Part EP titled 'VIPER 100'.
The 'VIPER 100' EP series consists of four exclusive Viper artist collaborations to mark the occasion, with two of Viper's fastest-rising young talents in BMotion and Dossa & Locuzzed kick-starting the party with 'Love Blind' as Part 1 of the series.
'Love Blind' is a catchy tune with a killer beat; demonstrating perfectly the original calibre of music fans have come to expect from the Viper crew. Opening up with a melodic, 80s-inspired electric guitar intro before weaving in some funky vocal samples and synths, 'Love Blind' then drops in to a hard-hitting mix of bass, break and riffs which make for some serious raving material.
Watch out for the next three installments of the VIPER 100 EP series, as Viper Recordings continues its reign of glory past 100 releases and beyond.
VIPER 100 (Part 1)
BMotion vs. Dossa & Locuzzed
'Love Blind'
1. Love Blind
Label: Viper Recordings
Cat: VPR100A
Genre: Drum & Bass
Beatport/Spotify Exclusive: 27th Jan. 2017
Full Release: 10th Feb. 2017
Buy or Stream: https://viper.lnk.to/vpr100a
BMotion Online:
https://www.facebook.com/bmotionuk
https://twitter.com/bmotionuk
https://soundcloud.com/bmotionuk
https://www.instagram.com/bmotionuk
Dossa & Locuzzed Online:
https://www.facebook.com/dossalocuzzed
https://twitter.com/DossaLocuzzed
https://soundcloud.com/dossalocuzzed
https://www.instagram.com/dossalocuzzed