V O E
Chemical Remix EP
[VPR281]
Stream or Buy: https://fanlink.to/VPR281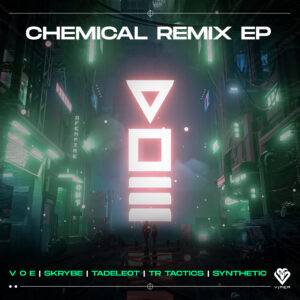 Tom & Caroline aka V O E (Vision of Empire) are a drum & bass duo hailing from Adelaide, Australia, with a sound that combines huge cinematic atmospheres and distinct production with powerful and intoxicating vocals.
From winning NCS's Track & Build Competition in December 2020 to now, Tom and Caroline have been truly unstoppable. Since signing exclusively to Viper, the duo have released a slew of huge singles leading them to their breakthrough debut 'Chemical EP' , which featured 5 immense records & gained support from UKF, Radio 1, Triple J, and more.
Now, V O E are further celebrating the lead track Chemical with a new remix EP. Turning the tables and hosting their own remix contest, V O E are bringing four new names to the spotlight: Skrybe, SYNTHETIC, TR Tactics, and Tadeleot, alongside their own VIP of the original.
With over 100 entries, narrowing it down to just four winners was no easy feat – especially when each track brought such a different take on the original.

Competition winner Skrybe wowed V O E with their apocalyptic re-imagining of "Chemical", delivering a distinctively dark and ominous energy with a drop that might even catch you off guard, all while masterfully integrating Caroline's original vocals into something brand new.
SYNTHETIC extracted more of the rock n' roll side of the track, expanding on it with raw guitar riffs and epic drums alongside vibrant synths and pads, once again totally transforming the original and taking the listener to an entirely different era.

TR Tactics focused more on V O E's neurofunk inklings with a full throttle, intricate powerhouse rendition of "Chemical" that is loaded with adrenaline and impressive technique.
The fourth competition winner Tadeleot's offering is a melodic and enchanting dreamscape, gently luring in the listener into a much more serene fantasy before switching it up at the halfway point with a fast-paced neon electronic drop that will surely get both fists and hearts pumping.
Last but certainly not least, V O E have also graced listeners with their own take on the original with Chemical VIP, which has been doing damage on the event circuit both at home in Australia and abroad.
An impressive EP from start to finish as well as a wholesome celebration of some of the scene's future stars, V O E have delivered something truly special with this project. A full circle moment in some ways as they first rose to fame following a similar contest, V O E spent countless hours hand-picking these four tracks, each one a standout for different reasons, alongside their own VIP. Proving once more that they're more than just a name to watch, be sure to keep all eyes on V O E in 2022.

V O E – Chemical Remix EP
1. Chemical (VIP)
2. Chemical (Skrybe Remix)
3. Chemical (SYNTHETIC Remix)
4. Chemical (TR Tactics Remix)
5. Chemical (Tadeleot Remix)
Label: Viper Recordings
Cat: VPR281
Genre: Drum & Bass
Release Date: 7th October 2022
Stream or Buy: https://fanlink.to/VPR281