TREI & L.A.O.S. – THE LIGHT
[VPRVIP014]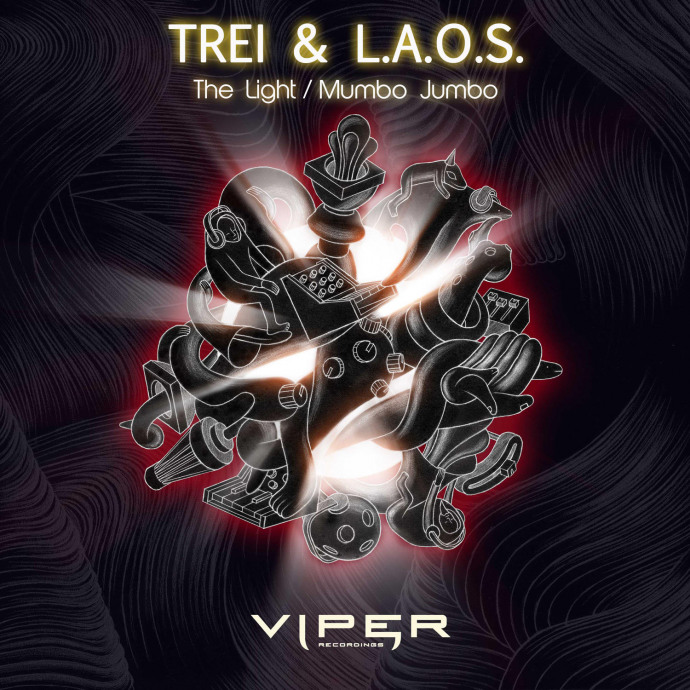 Since its inception in 2003, Viper Recordings has been a breeding ground for some of drum and bass' hottest talents. Having been home to some of the most ground breaking rising stars in the scene, Viper has consistently put out some of the first hit releases from artists such as the Brookes Brothers, Sigma, Camo & Krooked, DC Breaks, Delta Heavy, and The Prototypes. Not to mention their own exclusive international roster lead by Matrix & Futurebound and featuring rising stars: ShockOne, Metrik, Furlonge, Smooth, and InsideInfo.
The same is especially true for Viper Recordings sister label, Viper VIP. A launching pad in many careers of today's hottest producers, Viper VIP has seen the likes of Metrik, InsideInfo, DC Breaks, Camo & Krooked, Furlonge, Blokhe4d, and Smooth all get their first big breaks into the scene.
Following in that tradition, New Zealand's Trei has teamed up with Finland's L.A.O.S. (Large Amount Of Soul) to deliver a blazing twelve-inch. Having both made names for themselves individually on prestigious labels such as Hospital Records, Spearhead Recordings, Shogun Ltd, Critical Music, and Commercial Suicide, Trei & L.A.O.S. now make their debut on Viper VIP in grand style with the hauntingly soulful, but equally banging, 'The Light'. Going heavier on the flip, 'The Light' is backed by a solo effort by Trei, unforgettably entitled 'Mumbo Jumbo', a bongo-filled, dancefloor killer which will make you think you've landed smack in the middle of a Sergio Leone spaghetti western, while leaving a dusty trail of sweaty ravers in its wake.
Trei & L.A.O.S. – The Light by Viper Recordings
Trei – Mumbo Jumbo by Viper Recordings
TREI & L.A.O.S.
1. TREI & L.A.O.S. – 'THE LIGHT'
2. TREI – 'MUMBO JUMBO'
Label: Viper VIP
Cat # VPRVIP014
Format: 12" Vinyl & Download
Viper Shop Exclusive: 26th September 2011
Released: 3rd October 2011
DJ support from: Matrix & Futurebound, DJ Hype, Friction, ShockOne, Metrik, Pendulum, Brookes Brothers, Shimon, Camo & Krooked, Crissy Criss, and many more.
For further info contact: Tim @ Viper (tim@viperrecordings.co.uk)