The Sound of Drum & Bass 2021
Various Artists
[VPRLP035]
Stream or Buy: https://fanlink.to/VPRLP035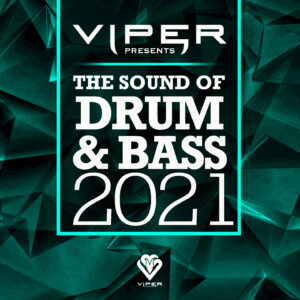 One of Viper's most well-loved compilations is returning for the first time since 2018: The Sound of Drum & Bass 2021. Curated by Futurebound, the compilation features a plethora of the best & brightest new Drum & Bass in the game, sharing a name with the popular Spotify playlist that shines a spotlight on the best new music each week. This year's compilation features 10 brand new exclusives plus a selection of favourites from the past year, all leading to an unmissable album release. In classic Viper fashion, new exclusives from the hottest up-and-comers sit alongside the year's biggest releases from scene veterans Matrix & Futurebound, Cyantific, Rene LaVice, Grafix, Koven, Ekko & Sidetrack , Ruth Royall and more. Plus, with early samplers from BLVCK CROWZ, Futurebound & BMotion, Tall Order, SOL, Phonetic & CydeFX, the bar could not have been set higher before the full release of the year's biggest compilation: The Sound of Drum & Bass 2021, only on Viper.

Samplers like "Jungle Demon" from BLVCK CROWZ delivered a menacing underground weapon, while Futurebound & BMotion's "Slap Suey" is the vibrant, electrifying dancefloor rave anthem of the summer. New names Tall Order & Phonetic both delivered mighty first impressions after being discovered by Futurebound, the album also shines a spotlight on the mysterious CydeFX with the infectious jump-up number "Soul" that is sure to be a hit on the club circuit, and newest signing SOL gave us a heartfelt taste of what to expect from the rest of the LP.
And as if those first few samplers weren't enough, the full compilation offers even more never before heard exclusives from the worldwide Viper family. Bugwell returns to Viper with "Power Out", a murky yet groovy stomper with impressive intricacy, while The Voss gives us a hefty dose of USDNB with the hair-raising "Must Love Dags" alongside the equally infectious "Need My Love" from Simon Splice. Last but not least, the compilation features a new record from Tengu & Maddy V, featured on Episode 005 of Viper Radio, "Underneath The Shadows".

Nowhere else would you find a compilation that stacks some of the scene's most well-loved veterans against so much new talent, but that's exactly what's made Viper standout over the years. Proving that talent speaks louder than ego, Futurebound has hand selected each track, representing the very best of the global drum & bass community.
The Sound of Drum & Bass 2021
Slander & William Black – Back To U (Matrix & Futurebound Remix)
Koven – Worlds Collide (Grafix Remix)
Ekko & Sidetrack ft. Ruth Royall – Paper Birds
Blaine Stranger ft. Voicians – Sirens
V O E – Take What You Want
Futurebound & BMotion – Slap Suey *
Jack Mirror ft. Elle Exxe – Junipero
CydeFX – Soul *
Tall Order – Can't Breathe *
SØL – Need You *
Cyantific – Woman
Murdock ft James Marvel – Holding On (Rene LaVice Remix)
Dossa & Locuzzed – Dusk
BLVCK CROWZ – Jungle Demon *
Dub Elements – Mindshaker
Lee Mvtthews & Trei ft. Nu. – Lights Out
Futurebound – Dangerous
The Voss – Must Love Dags *
Phonetic – Falling *
Madface & Symplex ft. V O E – Call On You
Giganti – Legs
Nuaura – One More Time
Bugwell – Power Out *
Madface – Escape
Simon Splice – Need My Love *
Tengu & Maddy V – Underneath The Shadows. *

Label: Viper Recordings
Cat: VPRLP035
Genre: Drum & Bass
Release Date: 17th September 2021
Stream or Buy: https://fanlink.to/VPRLP035