Synth System & AL/SO
City Lights feat. Eidna/Extra
[VPR250]
Stream or Buy: https://fanlink.to/VPR250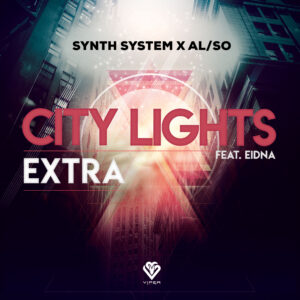 Welcoming two new names to Viper, Synth System & AL/SO join forces for "City Lights" and "Extra". Synth System, formerly known as High Maintenance, has been an integral part of the drum & bass scene for countless years, recently launching Synth System & straight away being enlisted for an official remix of Sub Focus' 'Last Jungle'. AL/SO, a newer name to the scene, works for Dutch label Korsakov Music.
The first of two singles, 'City Lights' also features a third collaborator, Eidna, a vocalist and songwriter who has been steadily on the rise in recent times. 'City Lights' is an eclectic, busy number with catchy vocals soaring over classic dancefloor sounds. Upbeat and energetic, the track is a perfect example of what to expect from the collaborative effort of Synth System and AL/SO.

The flipside of the release is 'Extra', a fun, space-y dancefloor number that is as fast-paced as it is full of adrenaline. Loud and in your face, the drop is the embodiment of end of the night rave energy, lasers flashing in time with the frenzied beat.
A label proud to be consistently releasing new music from new names, Futurebound certainly knows how to spot hidden talent, one of the key factors behind Viper's success over the years. Be sure to keep an eye out for more hidden gems from the label before the end of 2021!
Synth System & AL/SO – City Lights feat. Eidna/ Extra
1. City Lights feat. Eidna
2. Extra
Label: Viper Recordings
Cat: VPR250
Genre: Drum & Bass
Release Date: 22nd October 2021
Stream or Buy: https://fanlink.to/VPR250