SHOCKONE – UNIVERSUS LP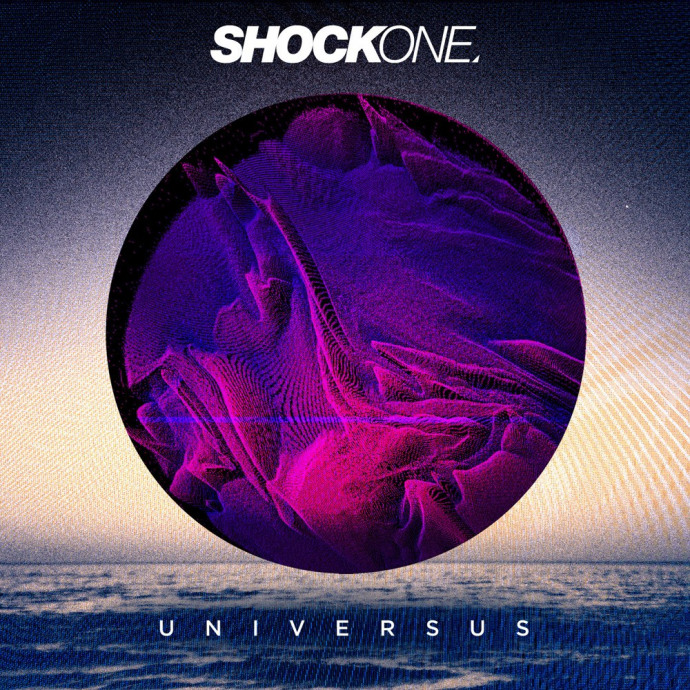 ShockOne is back in storming form, with his killer debut album 'Universus'. Australian-born Karl Thomas released his first EP as ShockOne in 2009 which featured the smash hit 'Polygon' and the experimental Dubstep anthem, 'Adachigahara's Theme'. Since then he has been behind a string of successful singles that have seen Beatport and iTunes number ones, YouTube hits by the millions, as well as support from influential industry tastemakers such as: Triple J, Annie Mac, Zane Lowe, Pendulum, Knife Party, Matrix & Futurebound, Sub Focus, and Chase & Status.
The album opens up with 'Chaos Theory', the latest in ShockOne's array of chart storming singles that he has unleashed on the Bass music community. Having already ranked #1 on iTunes Australia's dance charts and racking up close to ½ million views on YouTube, Chaos Theory's screaming basslines and hard hitting beats have already cemented ShockOne's place as one of Australia's premiere bass producers. The ascending synths of 'Chaos Theory' prevail, while an epic film trailer-voice pushes punters towards the dancefloor.
Next up is 'Harmonize', an uplifting D&B workout with an eastern tinge. Grimey undercurrents complement tearing beats, causing severe dancefloor damage. Moving on, we get into 'Big Bounce', a funky jolting contrast from the first few tracks of the album. At first, swaggering bass works closely with chopped up funk synths and off beat drum patterns. Then mid-track, we drop into an epic, arpeggiated keyboard solo, displaying subtlety and refinement, before dropping back into the meat of the 4/4 take, on ShockOne's sound. 'Lose Control' doesn't take much imagination to know where this one is headed. With vocoder vocals leading up to the drop and a funky, head-nodding bassline, watch out for the 'sign of the horns' on the dancefloor!
Mid-album is 'Crucify Me', an epic D&B adventure with fellow-Australian, Phetsta along for the ride. Successfully released as a two part single in 2011, this mini D&B saga has already been a festival favourite since its release. Next we have 'Universes' (with an "e"). Taking its name from the album title, this vocal anthem features the beautiful vocals of ShockOne's sister, Reija Lee, as well as Phetsta once again on the production collaboration. The frenetic sirens and rap vocals of Kyza instantly alert the listener that 'Lazerbeam' is going to be a heavy dancefloor smasher once it drops. Perfectly capturing the sounds of today's Drum & Bass, this is the apex predator of 2013!
Switching gears, 'Infinity's Silence' delivers vintage ShockOne in its truest form, with signature chopped up vocals and a bouncy bassline. Taking us into Dubstep territory, 'Relapse' features an epic melody and emotive vocals from Sam Nafie. Previously released as a single, 'Relapse' has already registered over 1 million YouTube hits since its release. Once again, ShockOne cranks up the energy with 'Age of Enlightenment'. Destined to be a clap-along favourite at festivals, this one is sure to keep crowd jumping. To finish off the LP, we are softly brought back down to ground level, with a beautiful euphoric outro, 'Light Cycles'. An epic journey through the cosmos, 'Light Cycles' truly shows the range of ShockOne's producing skills in what will likely be pegged as the crown jewel of 'Universus' when all is said and done.
SHOCKONE
'UNIVERSUS'
01. Singularity (The Monochord Of Creation)
02. Chaos Theory
03. Harmonize
04. Home (Feat. Reija Lee)
05. Big Bounce
06. Lose Control
07. Crucify Me (feat. Phetsta)
08. Universes (feat. Phetsta & Reija Lee)
09. Lazerbeam (feat. Metrik & Kyza)
10. Infinity's Silence
11. Relapse (feat. Sam Nafie)
12. Age Of Enlightenment
13. Light Cycles (Prelude)
14. Light Cycles
Label: Viper Recordings
Cat# VPRLP005
Genre: Drum & Bass, Electro House, Dubstep
Released: Friday 26th April 2013 (Australia/NZ)
Monday 29th April 2013 (Rest of World)
iTunes (Australia only): http://bit.ly/UniversusAU
iTunes (Rest of World): http://bit.ly/Universus
Universus Album Bundles available to buy in the Viper Shop:
CD + Black Viper Logo Shirt + MP3 Album Download – £22
CD + Black Viper 'Diagonals' Shirt + MP3 Album Download – £22
Black Viper Logo Shirt + MP3 Album Download – £20
Black Viper 'Diagonals' Shirt + MP3 Album Download – £20
CD + MP3 Album Download – £8.99
MP3 Album Download – £7
Buy in the Viper Shop: https://viperrecordings.databeats.com/shop
BUY UNIVERSUS ONLINE: 
CD:
Viper Shop: http://bit.ly/UniversusBundles
JB Hi-Fi Official (Australia): http://bit.ly/UniversusCDjbhifi
Amazon UK: http://bit.ly/UniversusCD
Juno Records: http://bit.ly/UniversusCDjuno
Rough Trade: http://bit.ly/UniversusCDRT
DIGITAL:
iTunes: http://bit.ly/Universus
iTunes (Australia): http://bit.ly/UniversusAU
Beatport: http://bit.ly/UniversusBeatport
Trackitdown: http://bit.ly/UniversusTID
Drum&Bass Arena: http://bit.ly/UniversusDNBA
Juno Download: http://bit.ly/UniversusJunoDL
www.facebook.com/shockonemusic / www.twitter.com/therealshockone
www.facebook.com/viperrecordings / http://twitter.com/ViperRecordings
www.youtube.com/ViperChannel / http://soundcloud.com/viperrecordings
For more info contact: 
General Enquiries: Tim @ Viper (tim@viperrecordings.co.uk)
Radio: John @ JB Plugging (john@jbplugging.com)
Press: Carlos @ Vision PR (carlos@visionmusic.co.uk)