SHOCKONE – RELAPSE (FEAT. SAM NAFIE)
[VPR040]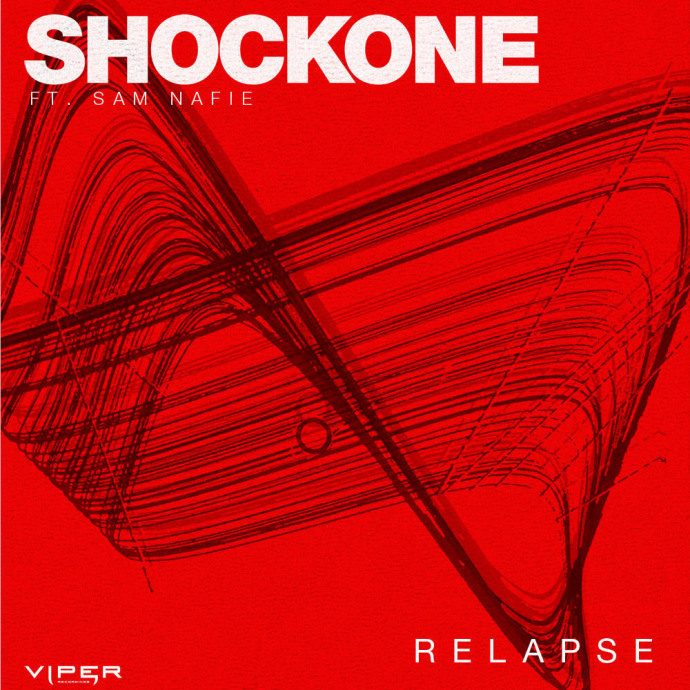 Just after the turn of the Millennium, one tune changed everything. As the countdown to the end of the 20th century rang out around the world, for those who sought the heaviest and most hard hitting beats on the planet, there was only one record on people's lips, that record was 'Messiah' by Konflict. While in London and the UK, 'Messiah' shaped the sound that would dominate drum and bass for the next decade, in Australia this one record was the catalyst for turning Karl Thomas and his band mates Rob Swire and Gareth McGrillan away from their lives playing in a hardcore rock / metal band, and launching them into a life creating some of the biggest, most influential club wrecking beats the world has ever seen.
While Rob and Gareth moved to London to form Pendulum, Karl Thomas under the moniker ShockOne stayed at home in Australia working tirelessly to help create the Australian Drum and Bass and Dubstep scene that he now dominates (ShockOne regularly receives radio support across daytimes on Australia's Triple J, almost unheard of for a Dubstep and DnB producer). Since 2007 ShockOne has released anthem after anthem, putting out tracks on the biggest labels in drum and bass with Simon Bassline Smith's Technique, Andy C's Frequency and DJ Friction's Shogun Audio all signing tracks before ShockOne signed exclusively to Futurebound's boundary pushing Viper Recordings, the label responsible for breakthrough releases from acts such as Matrix & Futurebound, Brookes Brothers, Metrik, Camo & Krooked and DC Breaks.
Since signing to Viper, ShockOne has produced a string of huge releases. These include the massive anthem 'Polygon' which received the stamp of approval from Annie Mac on Radio 1 (calling it "the biggest drum and bass track out") alongside high rotation playlisting on Australia's Triple J. This was followed by ShockOne's simply huge remix of 'Crackdown' (originally by Brookes Brothers) which was hammered by both Zane Lowe ("one of my favourite slices of drum and bass") and Nick Grimshaw ("this is a massive record") – with Zane even pulling the rewind live on Radio 1! In addition, the release of his breakthrough 'ShockOne EP' saw the EP's three drum and bass tunes achieve the top 3 spots on Beatport's drum and bass chart, and 'Adachigahara's Theme' stay at number 1 on the dubstep chart for over a month, and the Top 100 for over a year!
Having for many years worked simultaneously across a range of BPM's, ShockOne's debut album (from which 'Relapse' is taken) will contain tracks both within his familiar drum and bass and dubstep tempo's while also mixing in other BPM's and styles that many may not expect. If this new single is anything to go by, 2012 will be another landmark year, one which will again be talked about in years to come as the beginning of a new and exciting wave for beats and bass culture.
'Relapse' feat. Sam Nafie – Dubstep
ShockOne's style is always instantly recognisable. With intricate production and meticulous attention to detail alongside the dual focus on melody and stomach churning bass, there is always one aspect and you notice literally straight from the off – the epic intro's. ShockOne's tracks almost always unfold with a back of your neck rush inducing intro, making each track guaranteed set starters, and 'Relapse' is no different. A distant siren morphs into a wave of track enveloping synth rush as Sam Nafie's vocal rolls in with three monster hooks all lain out one after another. The track starts to crescendo, heightening the euphoria and inrush of expectation up to the drop, where a singular held vocal note and descending twisted organ rings out before the drop. As the track kicks in, the futuristic organ chords alternate with pulses of heart stopping buzz bass, all overlain by the vocals and Vangelis horns and underpinned by the titanium tough dubstep drums and mind melting subs. This is as anthemic and euphoric as bass music gets and will trigger scenes of joy, multiple screwfaces and hands in the air release wherever it is dropped.
'Relapse' feat. Sam Nafie (Tantrum Desire Remix) – Drum and Bass
Production team Tantrum Desire burst onto the scene in 2008, signing exclusively to Drumsound & Simon Bassline Smith's Technique recordings with their subsequent original tracks (such as 'Freeze' and 'Play Your Own Way') and scene stealing remixes (of Bassline Smith's 'Cape Fear' and 'Welcome To The Jungle' and Shimon's 'The Smoker') regularly finding their way into the boxes of the DnB A-List such as Grooverider, Jumping Jack Frost, Hype and Ray Keith. As one of ShockOne's favourite drum and bass outfits, they were an instant choice when he was looking for someone to give a different twist to his new single. As anyone familiar with Tantrum Desire will know, this track is not for faint hearted. However, while they have retained their signature style, they have absorbed the soul of ShockOne's track to produce a thrilling alternate version to the original. Retaining the basic structure of the track (including the set  starting vocal intro), they have ratcheted the beats up to 174bpm, keeping the songs chord sequences but instead alternating them with rising high pitched wind whistles, old school rave stabs and machine gun bass bolts. This is a peak time, packed club, rewind guaranteeing, mayhem inducing bomb. Drop it as your last tune in your set and turn to watch the guy or girl who has to follow you – this will undoubtedly prompt a bag scrabble as they reconsider their intro in order to try and follow this banger.
'Relapse' is the second single to be taken from ShockOne's highly anticipated debut album, released Spring 2012 on Viper Recordings
DJ Support for this single from: Pendulum, DJ Hype, Grooverider, DJ Fresh, Phetsta, Drumsound & Bassline Smith, Metrik, Matrix & Futurebound, Brookes Brothers, Nero, Caspa, Trolley Snatcha and more
ShockOne has produced official remixes for: Skepta, Brookes Brothers, Camo & Krooked, Netsky, Stanton Warriors, Cutline, Russo feat. Dot Rotten, TMS feat. Jagga.
ShockOne – 'Relapse' feat. Sam Nafie
Viper Recordings [VPR040]
Viper/Beatport Exclusive: 21st November 2011
Full Release: 5th December 2011
1. ShockOne 'Relapse' feat. Sam Nafie
2. ShockOne 'Relapse' feat. Sam Nafie (Tantrum Desire Remix)
For more info contact:
Radio: John @ Destiny (john@destinytowers.com)
Press: Tim @ Viper (tim@viperrecordings.co.uk)