NC-17 – CITY ON FIRE / MR. SATURDAY NIGHT
[VPRVIP038]
BASED OUT OF TORONTO, CANADA, NC-17 HAS LONG BEEN AT THE FOREFRONT OF DRUM & BASS€™ RISING POPULARITY IN NORTH AMERICA.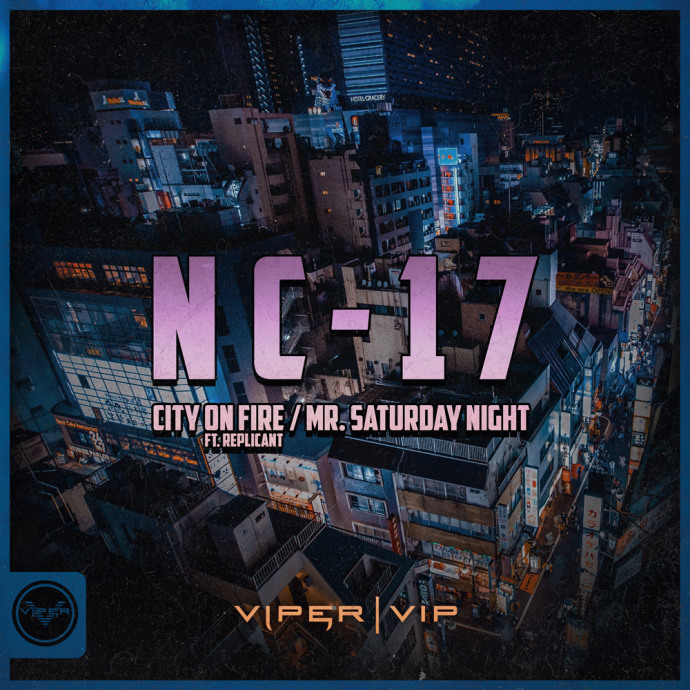 Buy/Stream: https://viper.lnk.to/VPRVIP038
Based out of Toronto, Canada, and owner of GrindHou5e Audio, NC-17 has long been at the forefront of drum & bass' rising popularity in North America.
Deriving his name out of his love for cinema, his music carries a certain cinematic quality amidst the dancefloor-ready chaos.
With releases on Playaz, Symmetry, Hardware, and his recent release 'Psycho' as part of Viper's annual Bassrush compilation, NC-17 is showing no signs of slowing down.
NC-17 teams up with LA-based producer Replicant for 'City on Fire', an eerie, old school track that pays homage to the roots of the genre with a North American twist. Combining some of drum & bass' most iconic samples with a dark yet groovy energy, 'City on Fire' is set to decimate dancefloors the world over.
The flip side of the single, 'Mr. Saturday', opens on an immediately daunting note, reminding us of the producer's love of cinema. Taking vocals from Bob Sinclar & Eddie Amador's 2001 release 'Do It' and adding room-filling bass, fast-paced drums, and a sense of impending doom, 'Mr. Saturday' is another track ready to take on dancefloors around the world.
With two tracks that successfully pay homage to the roots of drum & bass with a modern twist, NC-17 proves once more that he is a welcome addition to the growing Viper catalogue.
 NC-17
'CITY ON FIRE / MR. SATURDAY NIGHT'
1. City On Fire Ft. Replicant
2. Mr. Saturday Night
Label: Viper Recordings
Cat: [VPRVIP038]
Genre: Drum & Bass
Released: 31st Aug. 2018
Buy/Stream: https://viper.lnk.to/VPRVIP038
BLAINE STRANGER ONLINE
https://www.facebook.com/nc17audio
https://twitter.com/ncseventeen
https://soundcloud.com/ncseventeen
https://www.instagram.com/ncseventeen/