John Dee x BLVCK CROWZ
On My Mind + Upgrade Remix
[VPR283]
Stream or Buy: https://fanlink.to/VPR283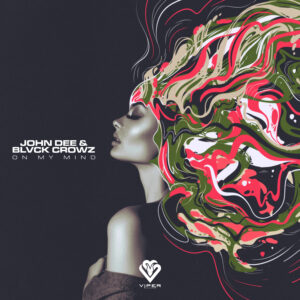 BLVCK CROWZ are one of the hottest new acts taking the bass music world by storm, steadily making a name for themselves across the EU party scene and beyond. Known for their unique take on jump-up DnB and high-octane DJ sets, BLVCK CROWZ have released tune after tune since signing with Viper, including "LIFT YOU UP" with Eskei83, "Visuals" with Dan Lee, "Collide" with Aktive, and the recent "All Night" – all massive tracks on the dancefloor and beyond. Now, teaming up with long-term collaborator John Dee who is responsible for some of the biggest remixes of the scene's most iconic tracks like Macky Gee's "Tour" and Flux Pavilion's "I Can't Stop", "On My Mind" is their catchiest song to date – so catchy, in fact, that Viper are releasing three versions, including a remix by the ever popular Upgrade.
Delivering something slightly out of the box for both BLVCK CROWZ and the label, the original mix of "On My Mind" is a slamming bassline house record – packed full of vibrant chords and decimating bass. Utilizing the inherent groove of house music, this one is sure to get fists bumping and crowds jumping in between euphoric sing-a-long moments and bassface worthy switch-ups.

Sitting alongside the bassline original, John Dee and BLVCK CROWZ celebrate their diverse talents with a house mix as well – focusing more on the euphoria of the vocals throughout the track and building a much more intimate atmosphere. A completely different vibe than the original, this version of "On My Mind" is calm while still packing a punch, a perfect reminder of the scope of greatness in the wider bass music scene outside of the label's roots.
Last but not least, Upgrade delivers a loud and proud Drum & Bass remix that is fast-paced and vibrant from the get go, setting a glorious summertime scene that wastes no time building up to the drop. Delivering a heart dose of crowd friendly vocals and decimating basslines, Upgrade's take on "On My Mind" is a guaranteed dancefloor destroyer.
Combining loud and in-your-face bass with refined precision, this new triple threat from BLVCK CROWZ and John Dee is certified sing-a-long status, each version guaranteed to bring the heat this winter. A strong finish to an even stronger year for BLVCK CROWZ, be sure not to sleep on this one, only on Viper.
John Dee x BLVCK CROWZ – On My Mind
1. On My Mind (Original Mix)
2. On My Mind (House Edit)
3. On My Mind (Upgrade Remix)
Label: Viper Recordings
Cat: VPR283
Genre: Drum & Bass
Release Date: 11th November 2022
Stream or Buy: https://fanlink.to/VPR283