INSIDEINFO – REVOLUTION (FEAT. MISS TROUBLE)
[VPR101]
INSIDEINFO AND MISS TROUBLE TEAM UP AGAIN FOR THEIR FIRST TRACK TOGETHER SINCE 'METAMORPHOSIS'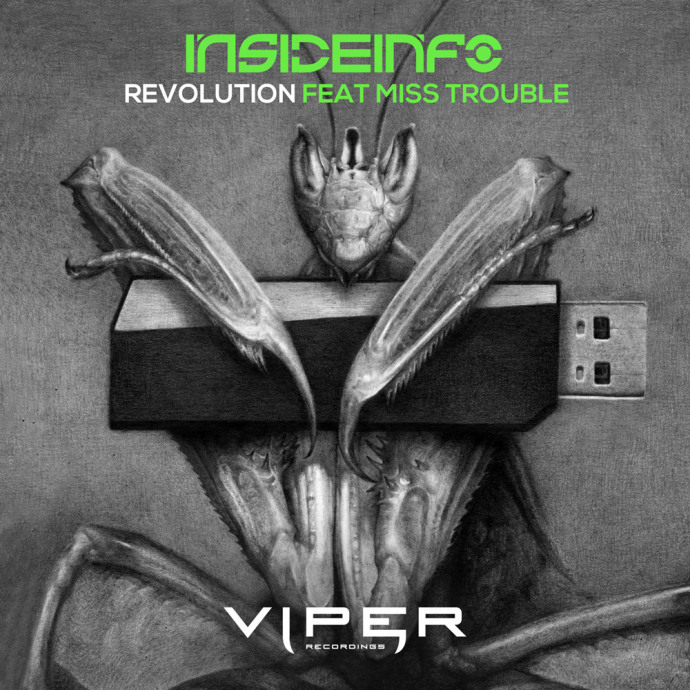 InsideInfo is a name that any fan of powerful, hard-hitting Drum and Bass has no trouble recognising. Well known for his gritty basslines, drum-heavy beats and meticulous sound design, InsideInfo is widely recognised within the scene for his consistent ability to completely redefine the neurofunk subgenre with his unique production style.
Since his first release on Viper Recordings – 'Sneaker' back in 2008 – InsideInfo has slammed down a series of massive releases including the game-changing 'Metamorphosis / Being' in 2014, 'Mushroom / The Plains' in 2015 and 'Pulsation / Talisman' with Mefjus later that year. At the beginning of 2016, the producer released 'Conformity' to huge success and continues to add to his track record of impressive remixes for the likes of Black Sun Empire, Bad Company, Camo & Krooked, Cyantific, Calyx & TeeBee and many more.
Teaming up with InsideInfo for their second collaboration and follow-up to 'Metamorphosis' is the legendary Miss Trouble, a renowned singer, rapper and MC from West London known for her complex lyricism and powerful vocals. The pair are now ready to drop their hotly anticipated new single 'Revolution' on Viper Recordings.
An uncompromising mix of forceful basslines and powerful lyrics, 'Revolution' packs a serious punch as a masterpiece of dark, atmospheric Drum and Bass. Aggressive, punchy and flawlessly composed, InsideInfo and Miss Trouble bring to the table a tune which is guaranteed to blow minds and switch up the game once again in the run-up to InsideInfo's debut album early next year.
InsideInfo
'Revolution'
1. Revolution feat. Miss Trouble
Label: Viper Recordings
Cat: VPR101
Genre: Drum & Bass
Beatport & Spotify Released: 4th Nov. 2016
Full Release: 18th Nov. 2016
Buy or Stream: https://viper.lnk.to/vpr101
INSIDEINFO ONLINE:
www.facebook.com/insideinfomusic
www.twitter.com/PaulInsideInfo
www.soundcloud.com/insideinfo
MISS TROUBLE ONLINE:
www.facebook.com/misstroubleofficial
www.twitter.com/MissTroubleMc
www.soundcloud.com/trouble_mc