Future Fire Vol. 2
Clank & Maider | Jon Void | Quoone & Sensus |Locoda
[VPR312]
Stream or Buy: https://fanlink.to/VPR312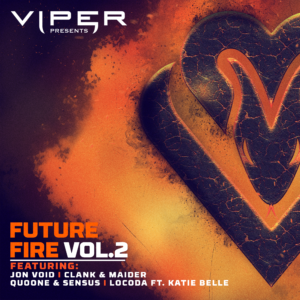 At the core of Viper Recordings has always been supporting up-and-coming talent and giving them the tools they need to break out. With a keen ear for discovering the next big thing, the label boss' 'Futurebounds' latest passion project has come in the form of "Future Fire", a compilation dedicated to shining a spotlight on fresh producers. Following a successful first installation, Future Fire returns with Volume 2, showcasing four brand new tracks from the future stars of drum & bass.

Jon Void, who has already earned support from Liquicity, delivers a chilling vocal number to the compilation. The aptly named "Haunting" is a slow burner, gently building an atmosphere that will send shivers down spines with eerie elegance in every note. A masterclass in dark liquid drum & bass, it's no surprise Jon Void has pricked the ears of Futurebound with this one, which was also featured on Viper Radio Episode 027.
Austrian duo Clank & Maider come in hot with "Walk This Earth", an ominous number that packs a punch. Equal parts suspenseful and euphoric, Clank & Maider show they're not messing about with their Viper debut. A catchy build-up with a sing-a-long melody, "Walk This Earth" is sure to put these two on the map.
US DnB producer Quoone teams up with Belgium musician Sensus for a border pushing banger, "Third Eye". Representing DnB in all corners of the globe in true Viper fashion, "Third Eye" is an absolute weapon of a tune, bringing cutting basslines that are sure to get crowds moving both sides of the Atlantic.

Manchester based Locoda teams up with Katie Belle for "Green Light" and it is the classic Viper sound. A dancefloor record that at times veers on the edge of pop music with a foreboding twist, Locoda shows off his production techniques with this catchy number.
Future Fire Vol. 2
1. Clank & Maider – Walk This Earth
2. Jon Void – Haunting
3. Quoone & Sensus – Third Eye
4. Locoda – Green Light ft. Katie Belle
Label: Viper Recordings
Cat: VPR312
Genre: Drum & Bass
Release Date: 11th August 2023
Stream or Buy: https://fanlink.to/VPR312