FRED V & GRAFIX – JUST A THOUGHT (FEAT. REIJA LEE)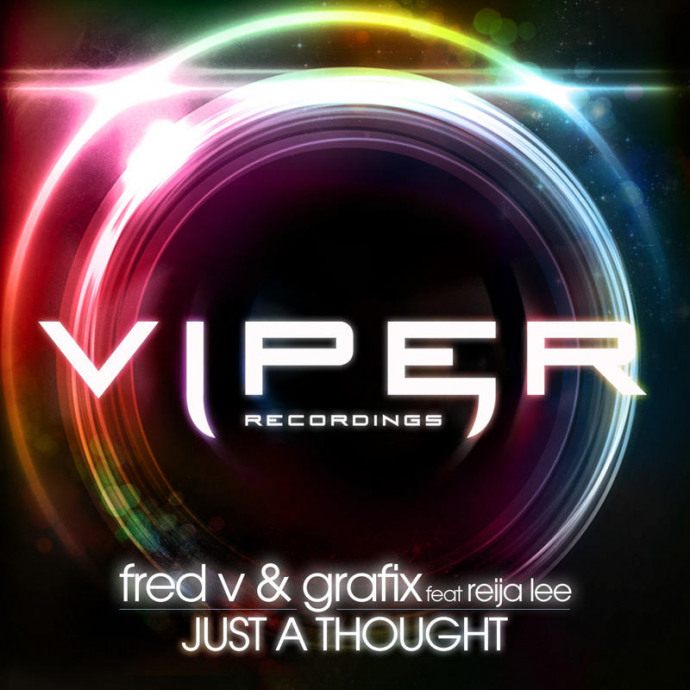 As a label, Viper Recordings has never been stronger. The past 12 months has seen Viper artists such as Metrik and Smooth gracing the airwaves everywhere from Fearne Cotton on Radio 1 to Crissy Criss on 1Xtra, taking the Viper sound to audiences both mainstream and underground. There have been landmark releases from some of the scenes biggest names in the shape of Camo & Krooked, ShockOne, Moving Fusion and Matrix and Futurebound, and now Fred V & Grafix step up to show that if there is one label to look at for the hottest new talent of today, who are soon to become the stars of tomorrow, you need look no further than Viper Recordings.
Joining an incredible list of current Viper stars and former alumni which includes Nero, Matrix & Futurebound, Sigma, ShockOne, J Majik & Wickaman, Brookes Brothers, Smooth, Metrik, DC Breaks and Camo & Krooked, Fred V & Grafix drop what is set to be their landmark release. With the instrumental already being caned by those lucky enough to have on dub (including Zane Lowe who has been absolutely hammering the track on his Radio 1 show), Reija Lee (of ShockOne 'Polygon' fame) now steps up to take the track to a whole new level with an amazing new vocal version completing the package for the tracks highly anticipated release.
Alongside other Viper newcomers such as Kove, Smooth, Metrik and InsideInfo, Fred V & Grafix are one the most hotly tipped acts of 2012 with their recent remixes for Emeli Sandé ('Daddy'), Skepta ('Hold On'), CJ Bolland ('Camargue') and Camo & Krooked ('All Fall Down') whetting the appetite for their standout single on king of the cuts, Viper Recordings.

'Just A Thought' feat. Reija Lee
When an instrumental already has a life of its own, as has been the case with 'Just A Thought', it's often difficult for vocalists to come in and put their own unique stamp on a tune, to make it their own and not just become an added layer on a pre-existing production. What Reija Lee has achieved with 'Just A Thought' is to take what was already an amazing record and give it a slightly different flavour, complimentary yes, but also making the tune entirely her own in the process. Working alongside the instrumental flip, this is a track which will melt hearts and lift hands, a club banger with a tale to tell and a depth of soul. Incredible.

'Just A Thought (Instrumental)'
Opening with haunting piano's and trance like swashes, the bass kicks in early with an almost melodica style punch and snatches of heavily reverbed ghostly vocals sweeping around the mix. The effect is almost trancelike, managing the rare feet of marrying melancholia with hands in the air smiles and good times. At the drop the beats roll out while the bass and digital accordion style riffs twist and turn and interplay. The genius of the production is in the subtle shifts of melody between bass and top line, constantly switching while always harmonizing, like a finely tunes barbershop quartet of bass. On your headphones while driving around your home town or city this will feel like pure late night afterclub reflection, but make no mistake at peak set time in a packed club this will raise the roof as big as any tear out. One for the box, the ipod and the car. An instant classic which could only be improved by the mighty vocal talents of Reija Lee.
DJ Support for the 'Just A Thought' from: Matrix & Futurebound, High Contrast, Zane Lowe, Subfocus, Metrik, Camo & Krooked, London Elektricity, ShockOne, Danny Byrd, Wilkinson and more…
Fred V & Grafix feat. Reija Lee
1. 'Just A Thought' (Vocal Mix)
2. 'Just A Thought' (Instrumental)
Released: 26th March 2012
Label: Viper Recordings
Cat No: VPR043
Buy: https://viperrecordings.databeats.com/download/vpr043
For further information contact: John @ John Brogan Plugging (john@jbplugging.com)
Tim @ Viper Recordings (tim@viperrecordings.co.uk)