DOSSA & LOCUZZED – SYNTHESIZER / GRAINS
[VPR150]
THE FUNKY AUSTRIAN DUO ARE BACK WITH THEIR LATEST SINGLE!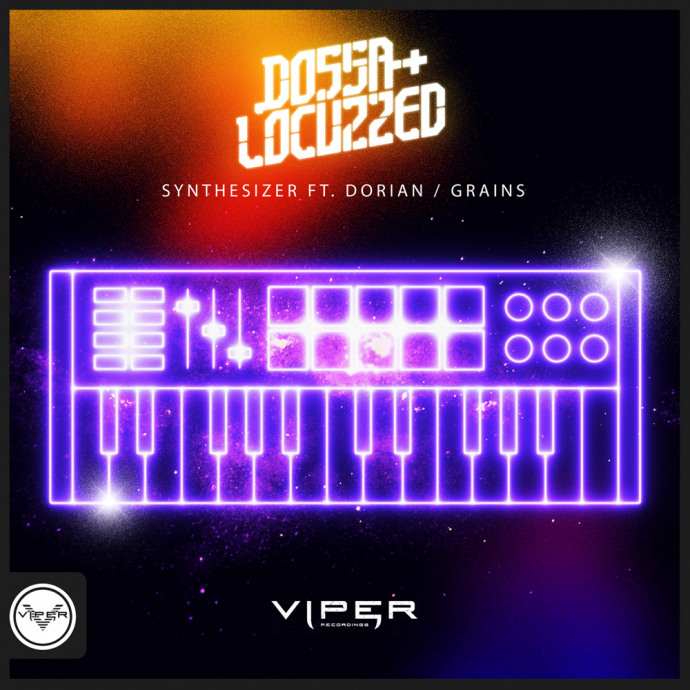 After signing exclusively to Viper in 2016, nothing but success has followed Dossa & Locuzzed. The duo from Austria have seen support from some of the biggest names in drum & bass with singles like 'Hollow', 'Stoned Love', and 'Electric Boogie' being picked up by Sub Focus, Culture Shock, DJ Marky, and MistaJam among others. Following the release of their highly sought-after remix of Camo & Krooked's 'Honesty' as well as their VIP edit of the iconic 'Shag', the duo are once again setting their sights on success with their latest label release.
Known for their signature funkified beats, 'Synthesizer' is yet another flawless example of the unique sound Dossa & Locuzzed are forging for themselves within the world of drum & bass. A collaboration with fellow Austrian Dorian (who has seen support from S.P.Y, DJ Hype, The Prototypes, Roni Size, and more), the track exemplifies the energetic, groovy, and totally out of the box sound characteristic of both producers.
'Grains' is another track that is sure to have you on your feet in an instant, tactfully combining elements of jump-up, jungle, dancefloor, and a healthy dose of funk in a way no one else could for a track that is guaranteed to be a go-to weapon in the arsenal of DJs all around the world.
True pioneers of the genre who are constantly pushing the boundaries of bass music, it's no surprise Dossa & Locuzzed have met with such success since their signing to Viper, and this latest release proves that the duo from Austria will only continue to move from strength to strength.
p
Dossa & Locuzzed
'Synthesizer / Grains'
1. Synthesizer feat. Dorian
2. Grains
Label: Viper Recordings
Cat: VPR150
Genre: Drum & Bass
Released: 22nd June 2018
Buy/Stream: https://viper.lnk.to/vpr150
DOSSA & LOCUZZED ONLINE:
https://www.facebook.com/dossalocuzzed
https://twitter.com/dossalocuzzed
https://soundcloud.com/dossalocuzzed
https://www.instagram.com/dossalocuzzed
http://www.dossalocuzzed.com
DORIAN ONLINE:
https://www.facebook.com/dom.dorian
https://twitter.com/doriandnb
https://soundcloud.com/dr-dorian
https://www.instagram.com/dorian_dnb