CYANTIFIC – BLOODLINE LP
[VPRLP025]
THE LONG-AWAITED CYANTIFIC ALBUM HAS ARRIVED!
Cyantific, AKA Jon Stanley, has been at the forefront of drum and bass for nearly two decades, releasing on some of the biggest labels in the scene before signing exclusively to Viper Recordings in 2014. Known for devotion to his decks, pinpoint accuracy in the mix, and his signature, often nostalgic, dance floor anthems, Cyantific has seen success in every form all around the globe, with support from everyone from Annie Mac and MistaJam, to Steve Aoki, to Andy C, Matrix & Futurebound, and Wilkinson.
Bloodline LP is an amalgamation of Cyantific's journey over the last few years, growing in a fast moving world but still holding on to the essence of the classics from the past & cleverly using the landscape to create a body of work where he has showcased his style.
Full of 80s-infused sounds, the album is full of vibrant synths and a sense of nostalgia that has become characteristic of the producer. With a fantastic mix of collaborators including ShockOne, DC Breaks, BMotion, Raphaella, and more, the album boasts an eclectic mix of songs and inspirations from Cyantific's signature sound. Tracks like the synthwave-inspired 'Labyrinth', the dark and mysterious 'Don't Look Back', the bass heavy, stabbing 'Hardbody', and the adrenaline-fueled 'Shoot 2 Kill', all showcase the producers extraordinary talents and production skills.
Of course, the album isn't short on soon-to-be dancefloor classics. 'Who Are You' delivers the ultimate feel-good track with a subtle Jungle flair, while the title track 'Bloodline' offers an unparalleled charisma and vocal elegance. Also destined for the dancefloor is the insanely catchy 'Make It Right', which pairs magnetic vocals from Rachel Clark with bubbly synths and an electric beat.
Following the success of the first three album singles: 'Body Movin'', 'More Than Human', and 'Wild Child', the forthcoming 'Bloodline' LP is such a diverse, iconic release and is set to be the soundtrack of the summer, and a strong addition to the already prestigious Viper catalogue.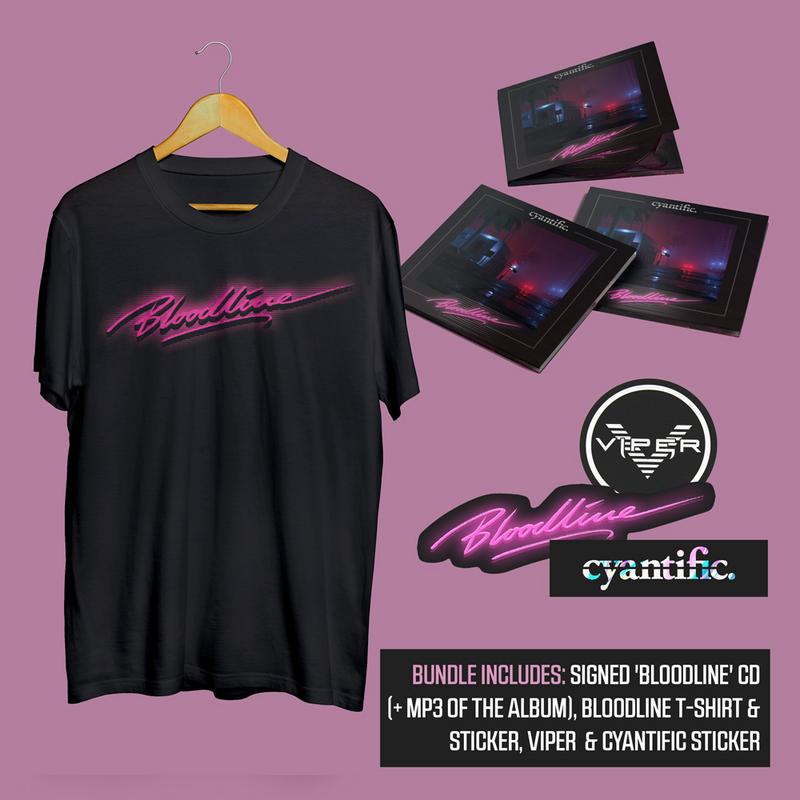 Cyantific
'Bloodline' LP
01. Bloodline Opening Credits
02. Body Movin' (feat. ShockOne)
03. Wild Child
04. Don't Look Back
05. Labyrinth (feat. Dana Jean Phoenix)
06. Back Off
07. Bloodline (feat Raphaella)
08. Fade Into The Night
09. Make It Right (feat. RAYA)
10. Hardbody
11. More Than Human (feat. DC Breaks)
12. Cyborg (feat. BMotion)
13. Outatime (Pt. 2)
14. Who Are You
15. Shoot 2 Kill
16. Colour in the Shadows (feat. Benji)
17. Bloodline Outro
Label: Viper Recordings
Cat: VPRLP025
Genre: Drum & Bass
Released: 20th July 2018
Buy or Stream: https://viper.lnk.to/bloodline
Signed CDs & T-Shirt bundles available from the Viper Shop: http://bit.ly/bloodbun
CYANTIFIC ONLINE:
https://www.facebook.com/cyantific
https://twitter.com/cyantific3000
https://soundcloud.com/cyantific
https://www.instagram.com/cyantific
http://www.cyantific.co.uk