Various Artists
Annual 2022
[VPRLP036]
Stream or Buy: https://fanlink.to/VPRLP036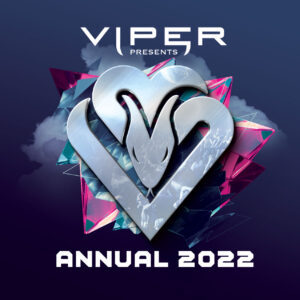 Continuing the yearly tradition of ending the year with a bang, Viper are proud to announce the return of the year's most beloved compilation, Annual 2022. Featuring tracks from a mix of scene veterans and rising stars alongside brand new exclusives, Annual 2022 set to be a highlight of the year & serves as the perfect recap for one of Viper's biggest years to date. Featuring 30 tracks, legendary acts Futurebound, Murdock, DJ Phantasy, Cyantific, and BMotion sit alongside roster staples Dossa & Locuzzed, Ekko & Sidetrack, Blaine Stranger, and Giganti, ones to watch Jack Mirror, V O E, Madface, BLVCK CROWZ, SOL, and Tall Order, plus longtime friends of the label Lee Mvtthews, Dub Elements, Juno, and more.
Fans of Viper know label boss Futurebound doesn't mess about when it comes to curating – from his unmatched A&R skills to hit Spotify playlists, the new Viper Radio show, and yearly compilations, there's no doubt Annual 2022 is full of top quality drum & bass. With an ear for talent that has brought more than a few legendary names to the surface, Annual 2022 is full of the hottest talent, the perfect recap of a massive year.

Covering the full spectrum of drum & bass, there's something on Annual 2022 for everyone, whether you're playing the club circuit or jamming at home and everything in between. The perfect taste of the signature Viper flavour, Annual 2022 has you covered. Featuring two brand new exclusives and a whole lot of talent, Viper are starting the year off on a high note with nothing but more of the best DnB to follow. Keep an eye on all things Viper in 2022 as you won't want to miss out on what's in store!
Annual 2022
Jack Mirror ft. Elle Exe – Junipero
BLVCK CROWZ & Eskei8 – Lift You Up
V O E – Chemical
Futurebound & BMotion – Slap Suey
Blaine Stranger ft. Voicians – Sirens
Ekko & Sidetrack – I Feel Your Love
Lee Mvtthews & Trei ft. Nu. Lights Out
Dossa & Locuzzed – Prism
Murdock ft. Shystie – Can't Keep Me Down (Bare Up Remix)
Dj Phantasy ft. Doktor – Junglist (Kara Remix) *
Cyantific – Woman
Madface – Escape
Dub Elements – Mindshaker
SOL – Need You
Synth System & AL/SO – Extra
Tall Order – Can't Breathe
Murdock ft. Roni Size – Double Dutch (Dossa & Locuzzed Remix) *
Lee Mvtthews & Trei – Control
BLVCK CROWZ – Jungle Demon
Madface & Symplex ft. V.O.E – Call On You
Giganti – Legs
Nuaura – Wherever you go
Dossa & Locuzzed – Tribe
Juno – Lilith
Phonetic – Falling
Ekko & Sidetrack – Connected
Blaine Stranger – What You Love
V O E – Come This Far
Bugwell – Power Out
SOL ft Alec Primevera – I'll Be Ready
Label: Viper Recordings
Cat: VPRLP036
Genre: Drum & Bass
Release Date: 7th January 2022
Stream or Buy: https://fanlink.to/VPRLP036